This time next week I'll be in Clermont, Florida (hopefully sleep) because it'll be time to race in the
Florida Challenge Triathlon!
I can't believe the day is just about here! Time truly flies when you have a million things to do at the same time...lol
I'm a little nervous about this one because I haven't trained as much and as hard as I would've liked. This year I've been busier than I've ever been, and unfortunately the last 2-3 weeks my training took somewhat of a back burner.
But these last few weekshave been VERY productive! I did an hour long presentation at Raymond James Financial on 5-24-11 talking about health & fitness in front of about 100 employees. It was very well received, and hopefully they'll invite me back to speak again.
I FINALLY completed my yoga classes on 5-29-11. I submitted my final exam, and hopefully I'll be a certified yoga instructor by July. Fingers, toes, and eyes crossed on that one! lol
Luckily, I DID do some light training while doing the above, so it's not like I didn't do anything at all. But at the same time, I didn't do as much as I'd like. Don't get me wrong, I feel I can finish. If I didn't think I could I wouldn't even race. My question is how will I do? How will I feel crossing the finish line? Will I feel like a million dollars, or feel like I got
HIT
with a million nickels? lol
Even though I've done this race 8 or 9 times previously, I don't take it lightly. Swimming 1.2 miles, riding a bike 56 miles, then running a half marathon is no joke. The mental preparation is just as important as the physical, and that's what I'm going to really work on this week. I have 1more hard training day (tomorrow) and then I'm on cruise control. Getting ready for races like this take months, and the week before the race is not the time to put in hard training. You want your body refreshed and ready to go on race day, not tired and still recovering from a hard workout the a couple days before...
Which leads me to today's training session, which was back to the bridges for some good hill training.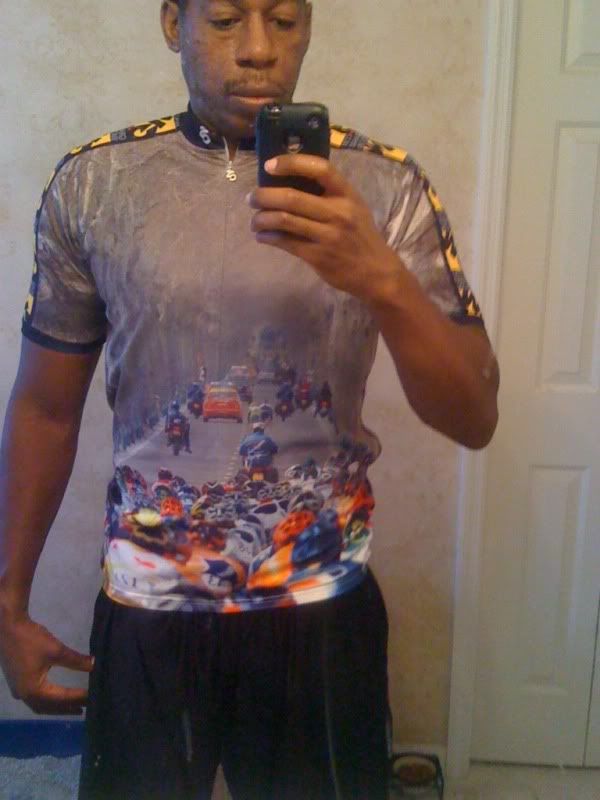 I have quite a few cycling jerseys, and I decided to dust this one off and wear it. I like this one because it's a pic from an actual professional bike race. The shot is taken from by a pro photographer
(Graham Watson)
riding on a motorcycle at the back of the peloton. You can see a couple guys ahead of the pack in the distance, and the others fast approaching with their different color helmets. The shot makes it seem like you're riding with them: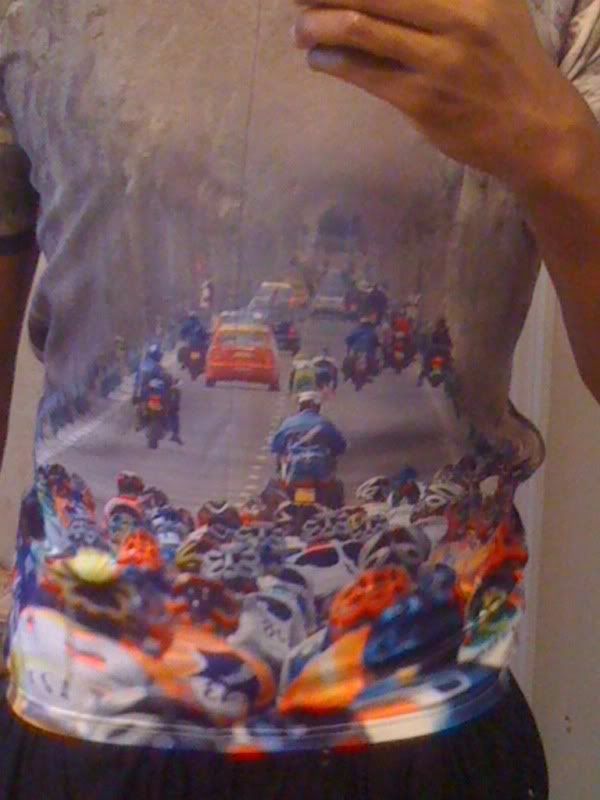 Well,
I
like it...lol
Anyway, back to the training. Here's a quick vid I took before I started my ride:
The goal today was to ride 3 hours pretty much as hard as I could over the bridges. The bike course is quite hilly, so I MUST simulate the race conditions as much as I can.
It was a great day to ride the bike. Here are a couple pics at the top of the the
1st bridge I ride:
Pictures really don't do this view justice. Th is the Gulf of Mexico and the water looks GREAT. Views like this make it a little easier to ride over & over these big a** bridges!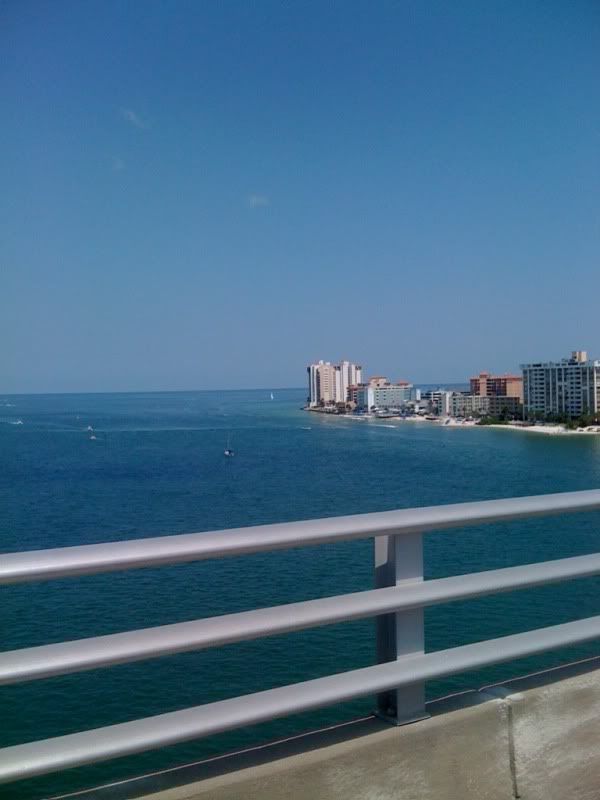 I usually ride the bridges in a seated position, kinda taking my time, but today I wanted to really push and "hurt" myself. What I mean is I wanted to ride so hard that my legs would be burning by the time I was done. I do that because I want my legs to get prepared for next week. So I did alot of standing and pedaling, trying to ride up the bridges as fast and as hard as I could. To be honest, I couldn't stand & ride all the way to the top. I'd get about 3/4 to the top and I'd have to sit down and slow my pace. But the damage was done. My legs felt it! lol
About an hour into the ride I stopped and took this quick vid:
It was a coincidence that I stopped right at that sign. That's fine, cuz it's my new motto:
Emergency Stopping Only: Do NOT stop!
I will NOT stop! No matter what happens next week, I'm gonna keep going!
I was feeling good at this point. My legs were holding up pretty well. I was drinking my water & Gatorade, took an electrolyte tablet, ate half a Clif Bar, and took 1 Gu. About 40 minutes later I head back to where I'm parked, which is by the other bridge.
The 2nd bridge is a little longer and harder than the 1st one, and I purposely ride this one last for that very reason. I need to make sure my legs can respond 2-3 hours into a ride when things get really tough. The last thing you want as an endurance athlete is to have your body fail on you when you need it most, which could 3, 4, or 5 hours
after
you start your event. You gotta dig deep and find that extra bit of energy, and to find it you have to locate it while training.
Two hours into my ride and I'm still feeling good. I'm surprised to be honest with you, because when I say good, I mean I did NOT feel like I had been riding for 2 hours. MAYBE for about 30 minutes of riding, amazingly. I was still riding aggressively and wanted to see how far I could push myself. So far my body was responding well.
I started to feel fatigue 2:45 into my ride. My legs felt tired, but no cramping (thank goodness.) I was still able to push hard, but I could feel my energy levels dropping slightly. That's fine, because on race day I won't ride as aggressively because I'll be saving energy for the run.
Here are pics on top of the other bridge as I was shutting it down: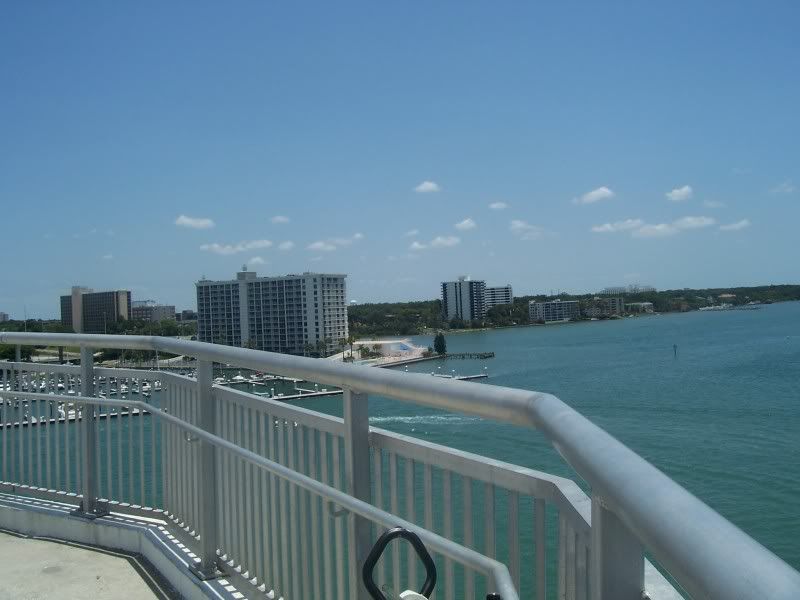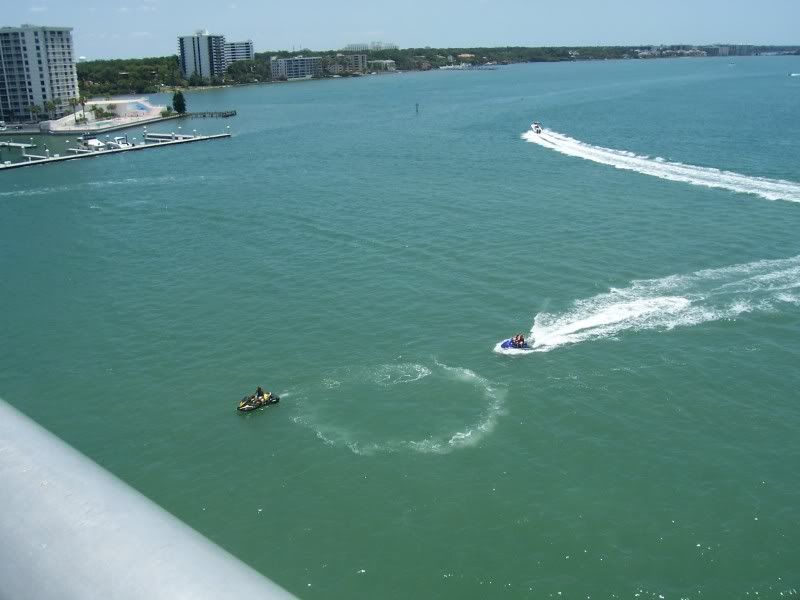 It was a GREAT day to be outside, and quite a few people were out enjoying the perfect weather. I will never get tired of this view. They always say
"never say never,"
but I'm sayin NEVER! lol
I'm sure after seeing these short vids why I enjoy coming out here to train!
After my ride I took my customary 15 minute cool down walk. I like to do that so I get the lactic acid out my legs, and to let them know subliminally that it ain't over yet! They still need to do some work, especially next week! lol
After my walk I get to do what I do best: lay down and relax! lol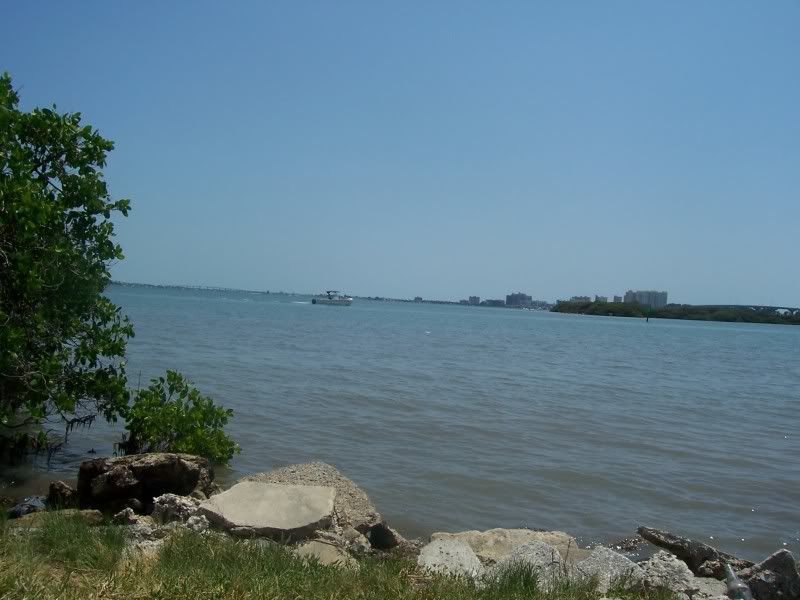 You can see the 1st bridge in the distance: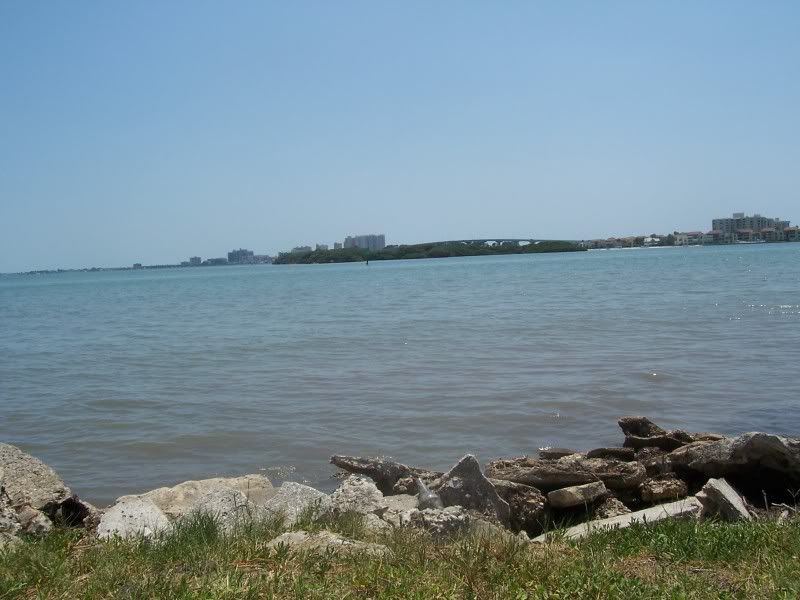 What I like about Florida is you can ALWAYS find a small secluded spot where you can chill by yourself away from everybody. Sometimes you just need to get away from everybody, even if just for a couple minutes.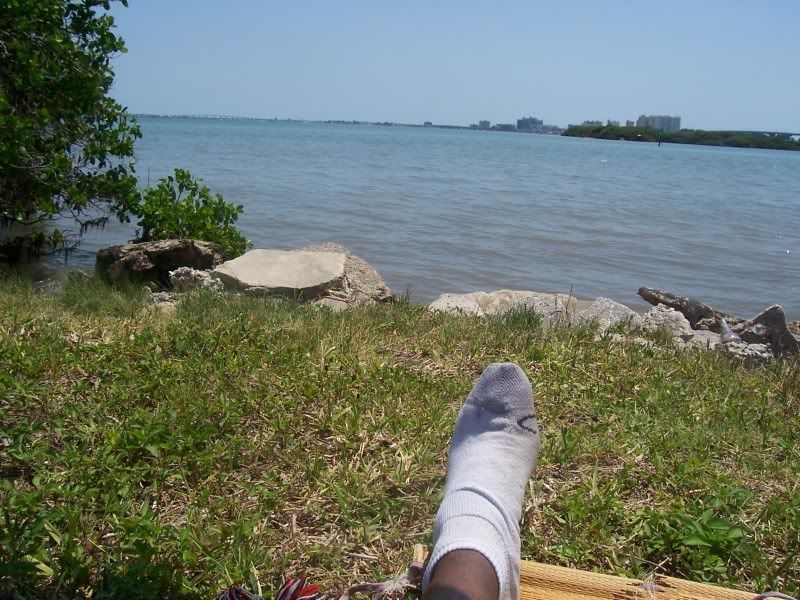 All in all,I had a GREAT ride. 3 solid hours with little problems. I think my swim and bike will be fine, but the run is the x-factor. Based on previous races, I'm able to get off the bike and run the first 7 miles w/o many issues, but at mile 8 all hell seems to break loose! It's like I have a major energy leak and it becomes a major struggle. I'm sure it's a combination of the heat and being out there for 6 + hours. I'm just plain tired at that point! lol
I really don't want to walk, but if I have to I can walk with the best of them. I can walk to EGYPT if I have to, but I'd rather not! lol
So tomorrow, I'm going for an 8- 10 mile run. That will be my last major workout b4 the race. We'll see how THAT goes!
But whatever happens next week, I'll give it my best shot, and I'll accept whatever fate has in store for me!
Thanks for reading! Till next time, Peace!