The official term is "Strength & Conditioning," but right now for me it's all about building up my
endurance
and conditioning! That's the 1 thing I hate about the off season: you take a (much needed) break from all the hard training. It's good to do that because you need the mental and physical break. It's good to get away from it to refresh your batteries, catch up with friends, and do other things that you can't do while training. But on the flip-side, when it's time to get back into it, it takes time to get that fire back!
This is the most challenging part. You want to jump in and pick up where you left off last season, but at that point you were in peak condition because you were training consistently for months. Unfortunately, you're NOT in peak condition right now, and it can be frustrating when you want to push it, but just can't do it!
That's where I am right now, and it's going to take me some time to get back to that level. The only way to do it is by working hard, being patient, and staying focused. Today I went back to Flatwoods Park for another 42 mile bike ride. The plan was to ride a bit more aggressively than I did a couple weeks ago. The only way to truly get better at any sport is to push past your limits. This is also a mental trick I like to play with myself. When I struggle in a race, I tend to think back to the hard training I've done and use that as a confidence boost to make it through.
I decided to wearmy Marvel Comics jersey today in hopes of getting some superhuman strength!
Now some might look at my old ass wearing this jersy and think I'm crazy. (Kinda like how they were looking at me when I went to the gas station before my ride! LOL) But I don't care. If I truly cared what people thought I'd never do triathlons and go play basketball or something, but I like it, so that's all that matters! Besides, who doesn't like Marvel Comics?? lol
Today was a perfect day for a ride. Not too hot & not too cool. It was a great day to be outside! I got to the park & was ready to really push myself today.
I took a quick video before I started the ride:
What I really like about this place is I there are no cars to worry about. Hit & run drivers area real problem in the Bay area and I REFUSE to put my life in jeopardy because some a**h*le hits me and decides to leave me on the side of the road. So around the 7 mile loop I go.
I had a pretty solid ride today. My average speed for the first 21 miles (3 laps) was 19mph. I felt really strong, but at the same time, I was riding slightly above my limits. But that's OK, because that's what I wanted to do. I don't push as hard during a race because I have to conserve energy after the bike for the run.
I was able to pass quite a few people today, but I got passed by a 3 guys who were MUCH faster then me. What makes it amazing (to me) is they made it look easy! I really don't like to get passed. I take it as an insult like they said about my mother! lol But when I see that, it means that if THEY can go faster, then so can I! I just hve to keep working & trying to improve.
Back to the ride, I was feeling good at mile 21, so I decided to keep pushing to mile 35 to see how my legs would respond. I got to mile 35 and saw that I had been riding for about 1:55 minutes. I slowed down a bit from the first 21 miles but that's ok. I decided to ride hard 1 more mile to have an average speed of 18 mph for 2 hours (36miles.) At that point I shut it down and rode pretty easily to catch my breath & rest my legs.
After I ride I like to relax a bit and enjoy my surroundings while I eat another Clif Bar. There were people of all shapes & sizes out taking advantage of this perfect day: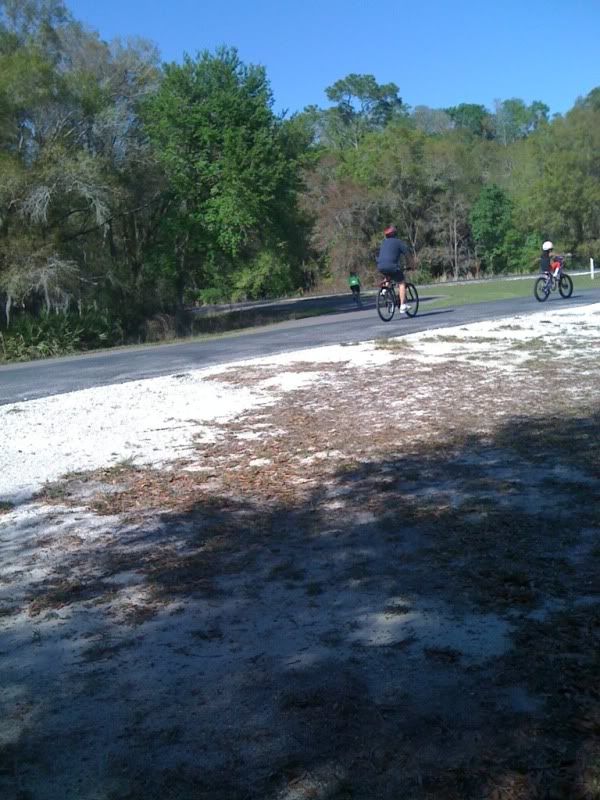 After relaxing for a few minutes, I took another quick video:
After my walk I did my yoga stretches, ate an apple and headed home. I ate a plate of chicken fettucini with spinach on the side for my post ride meal:
All in all, I'm really happy with my ride today. If I had to keep riding I could have. I would've had to slow my pace, but that's ok. My bike endurance & conditioning is coming along nicely. It felt good to get out there and really push it. My legs are still burning as I type this, but it's OK. Some people will never understand why I like doing this, kinda like I'll never understand why some think being a wide receiver in the NFL running across the middle to catch a football is fun! lol It's all relative I guess!
I guess the key is to find something YOU like to do, not what's popular or acceptable. You gotta do what pleases you, not someone else, and doing triathlon is what pleases me! lol
I'm confident that I'll be ready for the race in June, but won't be easy because it'll be a lot hotter then. The summer heat down here is no joke but I'm getting mentally prepared for that.
Next week it's more swimming and I'll be hitting the stationary bike for some interval training. Saturday I'll do another 7 mile run at Bayshore. Maybe I'll see some dolphins! Time will tell!
Thanks for reading! Till next time, Peace!