Well, it's about that time: time for me to start training for my first race of the year! I've been working out consistently for several months now, but not training. Big difference between the 2!
I've been having some great quality weekly workouts as of late: Hour long swims, indoor bricks (hour long rides on the indoor trainer followed with hour long runs on the treadmill,) and lifting weights twice a week.
When I train for triathlon, I back off the weight training a bit. I don't lift as heavy, and I'll only lift once a week. But in the off season I live by the motto
"Go heavy or go home!"
lol
My love of lifting weights doesn't help my triathlon training very much, because I tend to pack on the pounds in the off season. The extra weight would be great if I were trying out for the Raiders, but I'm not! lol In triathlon, the extra weight is a hindrance, because the more you weigh, the more energy used. And that extra weight is really felt when trying to run 13 miles in 90 degree heat...
So, here I am. I'm ready to start training! I haven't registered yet, but I've decided to race in the
Florida Challenge Triathlon
again: A 1.2 mile swim, 56 mile bike, and 13.1 mile run on June 12, 2011.
I'm a tad worried, because they moved the race date from September to June. Anyone living in Florida knows June is HOT! And this race is really tough (for me) because of the hills on the bike. Then add in the fact that I now weigh 220 pounds with 18% bodyfat and I'm in for a long day!
So now, it's all about triathlon training. My mentality is now changing. For the last several months, I was all about pumping iron. Here's a pic of me leaving the gym last Tuesday after a great weight training session:
Yes, it was a great session, but now I have to focus my energies on the upcoming race, so today I went to
Flatwoods Park
for a 42 mile bike ride. Here's me in "bike mode as I get ready to go:"
One thing I like about training is it allows me to "get away" from the daily stresses of life. Flatwoods is perfect because it's out in the middle of nowhere. Nothing but nature and silence: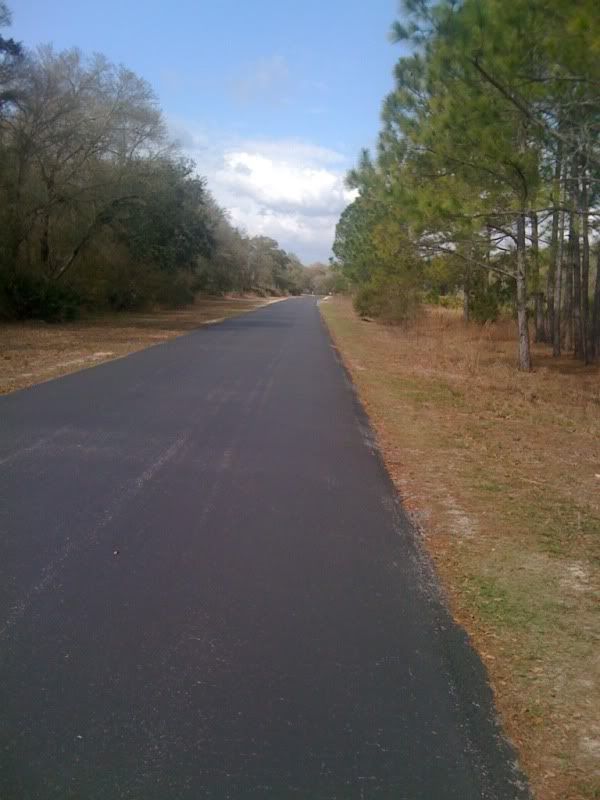 I hadn't ridden outside in about 6 or 7 weeks, so I was curious as to how my legs would respond. Riding the stationary bike is great, but it really can't compare to riding outside. You have to deal with the wind, the heat, hills, etc. etc. etc. When I ride the stationary bike, all I have to worry about is what episode of Soul Train or Caliente I'll watch to pass the time! lol
I started my ride on the conservative side. I rode at an easy pace to gauge how my legs were feeling. Even though riding the stationary bike isn't the same as riding outside, it has definitely helped me keep my conditioning up to par because after about 10 minutes I was feeling good! I decided to hit the gas and see how hard I could go and how long! lol
It was a perfect day to be outside. Not too hot and not too cool. Overall I felt good, but started to get tired around mile 35. The last lap I pretty much shut it down. The first 5 laps I rode like I was in the Tour De France, the last lap I rode like I was in the Macy's Thanksgiving Day Parade! lol I ended up riding the 42 miles in about 2 hours and 25 minutes.
After my ride I like to sit back, relax and clear my mind. My legs were quite tired, so I chilled for a few & watched people go by:
After chillin for a few, it was time to do some yoga stretches. I like to do yoga after my workouts as a cool down. It really helps me to recover and now I can't imagine NOT doing it. I found a cool spot in the shade and did 15 minutes of yoga: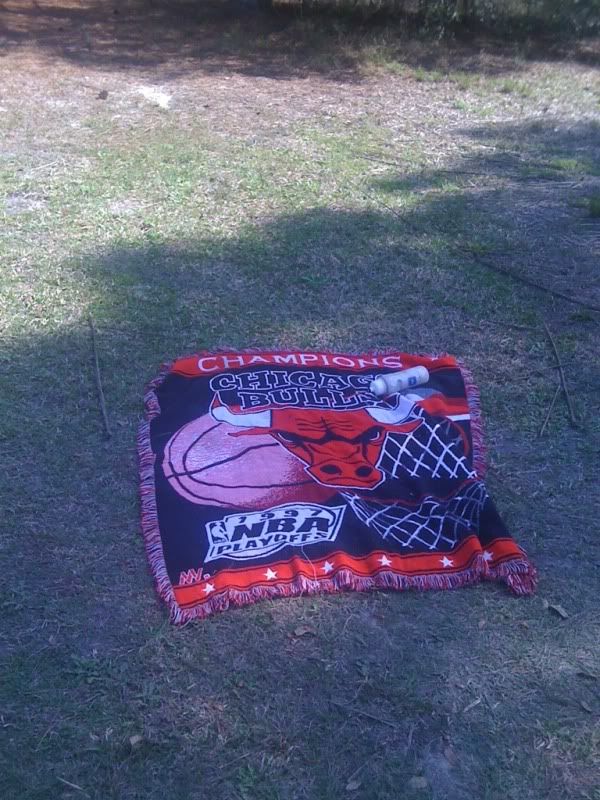 All in all, it was a good ride. I'm not ready to race yet, but I still have time to get in race shape. But I'm officially ready & excited to get started! This week I also bought some new goggles, running shoes, and energy gels:
I like to buy 2 pairs of running shoes so I can rotate them. That makes them last longer. Also, they discontinue shoes kinda quick, so at least I have a style I like to last me a while! As far as goggles, there's nothing worse than swimming and having the band break or they become leaky!
So, my season has officially started. It's going to be a challenge juggling home life, work and the PT business, but I'm up for the challenge! You only live once, so might as well make it count!
Thanks for reading! Till next time, Peace!