I had my first official interview recently for my company newsletter. It was fun! It was my first, but won't be the last!!
INVEST Associate Crosses Finish Line for the Seventh Time
On Sunday, May 16, in Orlando, Florida, INVEST Virtual Sales Assistant Jeff White completed his seventh 70.3 Ironman event. More commonly known as a half-Ironman, a 70.3 Ironman consists of a 1.2 mile swim, a 56 mile bike and a 13.1 mile run.
White started competing in sprint triathlon events in 1995 and since then, he has moved up to the half-Ironman distance. He finished this race in seven hours, 41 minutes and 41 seconds, one of his best times yet.
"It's the best feeling in the world to finish a race," said White. "Your hard work, dedication and sacrifices all pay off."
As a runner, White was a member of his high school track team. When he was in college, White started working as a lifeguard, which meant, the only sport he had to learn before competing in triathlons was biking.
"It's important to enjoy the journey of the training," said White.
To prepare for a half-Ironman, White usually trains for a minimum of six months. He swims, runs and bikes 4-6 days a week. Some weeks he focuses more on one stage, while during other weeks he trains in all three. On Saturdays, White hopes to complete a long run of 10 miles or a bike ride of at least 42 miles. He will occasionally do a brick workout, which consists of an hour long bike ride followed by an hour long run. White also lifts weights and does yoga. He only added yoga to his training regimen two years ago, but says it has been one of the best things he ever tried.
During training, White has to make a lot of personal sacrifices. Not only does he spend a lot of time physically training, but he also dedicates a lot of time to recovery — letting his body rest. White often has to forego junk food or nights out with his friends to ensure his body is in top racing condition.
"During each race, I always end up asking myself, 'Why am I doing this?'," says White. "But once you start something, you want to finish it. I never want to wonder, 'What if?'"
His advice to those who want to try competing in a triathlon is to start small. White recommends competing first in sprint triathlons, which consist of a 400 yard swim, a 10 mile bike and a three mile run. He also suggests going into a race with a goal of having fun, not worrying about your time.
"It's not about how long it takes you to finish the race, it's about finishing the race," said White. "When you finish, it makes you want to do it again."
One of White's favorite parts about competing in these events is meeting great people who share his interest in triathlons. It is a very social sport and competitors are always mingling at the races.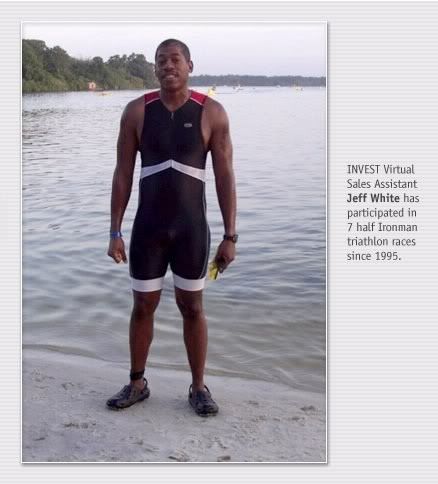 White might participate in another half-Ironman in September, but it takes a toll on the body to participate in these intense races. White will occasionally run in a half-marathon, however, he prefers the challenge of a triathlon.
White writes a blog to document his training and races. If you'd like to follow his progress, send him an e-mail for more information.
Talk about motivation. Time to take it to the next level! Thanks for reading! Till next time, peace!