Phase II: The Bike
Phase II of Ironman Florida was the bike and I couldn't wait to get out the water! I have an occassional bout of attention deficit disorder that kicks in from time to time. It just so happened to kick in on Sunday! 
Here's me exiting the swim: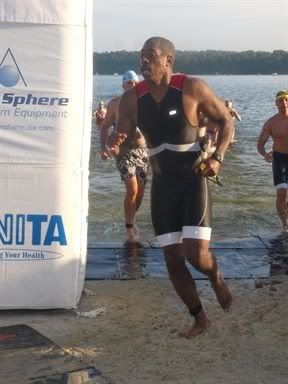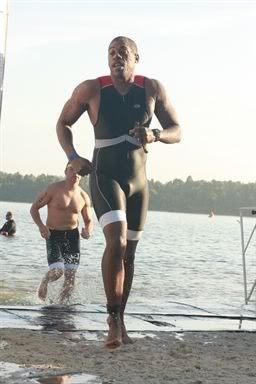 Like I said before, the transitions are just as important as the actual race.  In addition to getting on your bike as quick as possible, you have to FIND your bike! There were 2000 competitors, and that means there were 2000 bikes: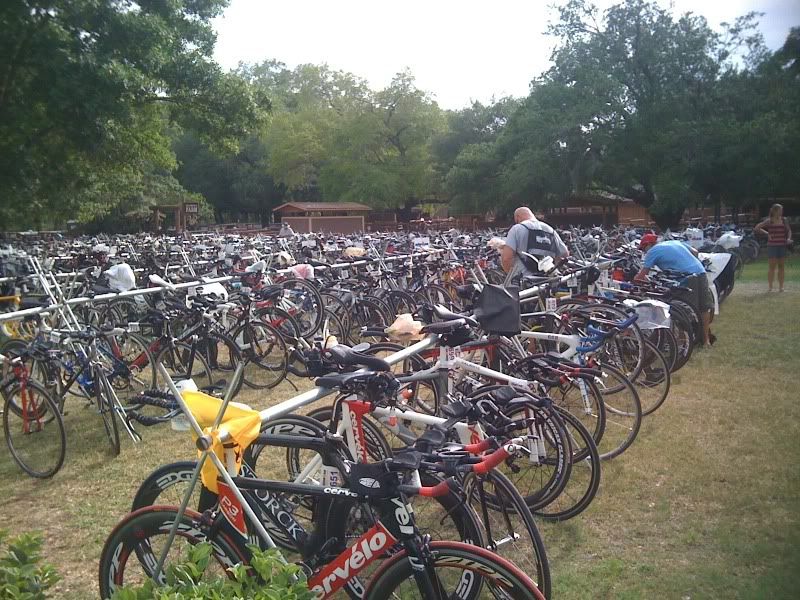 Trying to find your bike in all this can be quite traumatic if you get turned around! I've seen people get frantic cuz they couldn't find their bike. I have learned to do 2 things: 
1. Always get there early to rack my bike before the race. That way I can get an end spot thus easier to find. Most racks are first come, first serve.
2. Look for landmarks around the transition: trees, flags, etc. so I can find my bike easier.
I easily found my bike this time and hit the road: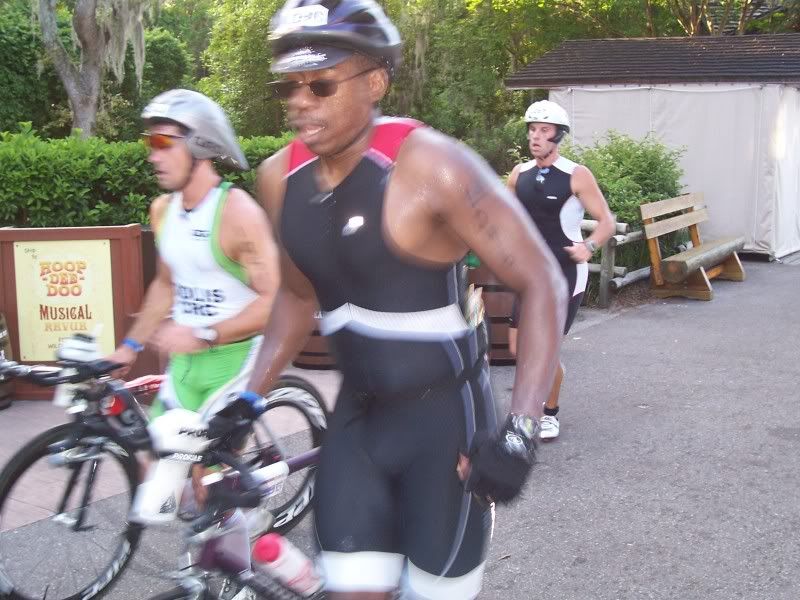 My plan for the ride was to ride at an easy tempo to save my legs (and back) for the run. My goal was to finish in 3 hours. With that said, I was mentally prepared to let riders pass my thru-out the bike.  
The key would be for me to be as aerodynamic as possible. That meant I'd ride in the aero position as long as I could comfortably, remembering to eat and drink often to keep my energy levels up.
Here's a pic of me on the bike course. Many of these pics were taken by the official race photographers along the race course: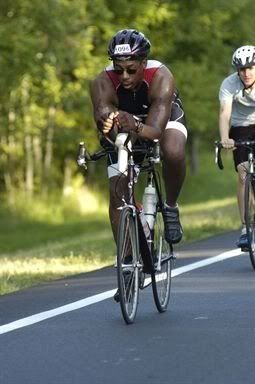 I was quite comfortable on the bike. My back felt good and every so often I'd pick up my pace for just a couple minutes just to test my legs. I'd also stand up and pedal to stretch my back. 
One thing I really like about this sport is even though it's very competitive, people still help each other and offer words of encouragement. Several times during the ride, I heard "great ride" or "looking good!" as i passed someone or got pased myself. One guy was passing me and said "your Cliff Bars are about to fall out of your pocket!" The last thing you want to do is lose your food on the bike! And if you're riding in a group, trying to stop and get it could be dangerous!! 
I was cruising along around mile 35 when I saw a guy standing next to his bike stretching and grimacing. I knew what was wrong: he was cramping and was trying to loosen his muscles. I stopped and asked him if he needed any electrolytes as I held out a handful I had in a sandwich bag. He said yes and asked if he could have 2. I gave him 2, wished him luck and took off again.  I didn't see him after that, but I hope he made it. You hate to see someone put in all that training and can't finish!!
Around mile 45 I started to get a slight cramp in MY left leg. To be honest, I'm not sure WHY I got a cramp because I wasn't really pushing it. Hell, I've ridden harder in training! I had plenty electrolytes and was eating and drinking plenty so I didn't know what the deal was. As a result, I had to sit up take another electrolyte and slow up a bit.
Here's another pic from an official race photographer. I can look at this pic and tell I was tired: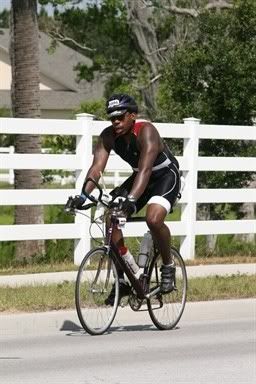 I think it comes down to my conditioning. It was good, but not where it would be if I hadn't gotten injured. But dwelling on that wouldn't do me any good at that point in time, so I decided to not dwell on it and just try ride at my own pace.
By mile 50 I was feeling better. The leg cramps had disappeared, but I decided to keep riding at an easier pace because I'd be running soon. I passed an equal share of riders who passed me, so overall I had a good ride.  
I finished the ride in approximately  3:20 minutes, 20 minutes slower than I anticipated. I think that leg cramp cost me 10 minutes, but that's ok, because I felt good and ready for the run!
Next blog will be about the run! That long, long run in the HOT Florida sun! Lol
Thanks for reading! Till next time, peace!