Saturday's are my long training days. I'll either go for a long bike, a long run, or a combination of both.
I really wanted to go ride the bridges, but it's still Spring break season, and that means more traffic in that area. I would've had to get over there really early to avoid all the traffic, but to be honest, I didn't feel like getting up really early! I'm not a morning person and if there's a chance I can sleep in, I'm gonna take it! So, instead of getting in some quality hill training, I decided to do a long ride (49miles) yesterday at Flatwoods.
As much as I love this sport, it can be stressful if you let it get to you. You have THREE sports you have to get ready for: Congrats on being a great runner, but it means nothing if you can't swim. Being a great cyclists is wonderful, but if you struggle and suffer thru the run and have to walk that'll make for a long day...
Training for these races is a delicate balancing act. If you want to be competitive, you have to be good at all three. No weak links. Hence my aggravation yesterday. I need to ride the bridges to get ready for the hills. Yeah, I've done this race many times before, but I'm a year older and you can't rest on your laurels from years past. In order to get ready, you gotta train properly.
It's my fault I didn't get up extra early to avoid the crowds, but I didn't want to, so I have nobody to blame but myself. But I still wanted a good ride, so I just went to Flatwoods instead.
It's starting to get HOT!
Very hot!
That's another thing about racing in Florida: You gotta get used to the heat, and the only way to really do that is to train in it. My goal today was to ride 49 miles, 42 of it as hard as I could. I wanted to leave it at the park, to try & compensate for the lack of hills.
This is 1 of my fav jerseys. Festina was a pro cycling team in the 80's and 90's. Some people collect basketball & football jerseys, I collect cycling jerseys! lol
On the way to the park I stop to get gas and run up on a motorcycle club. They were about 20 deep. I couldn't resist getting a couple pics of them: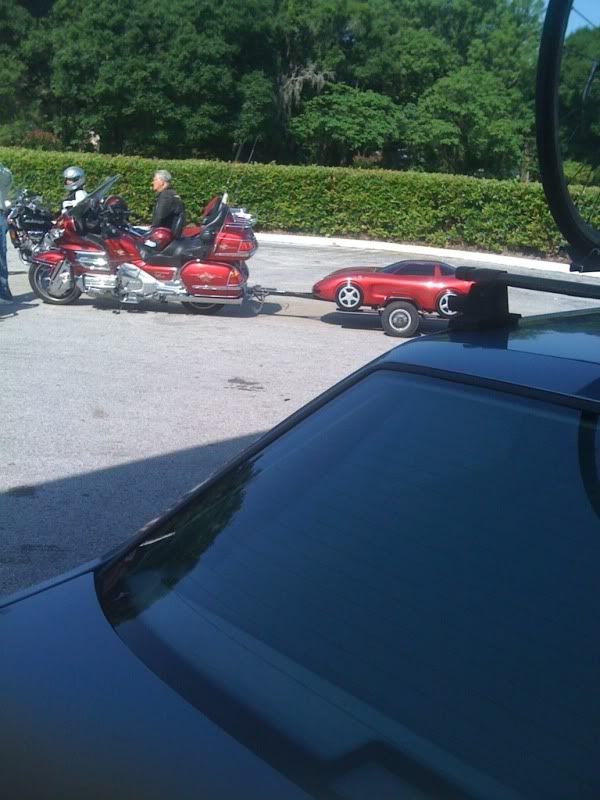 I really like motorcycles, but would never get one. I think I'll stick with my Cannondale! They were looking at me, I was looking at them. Quite funny actually. lol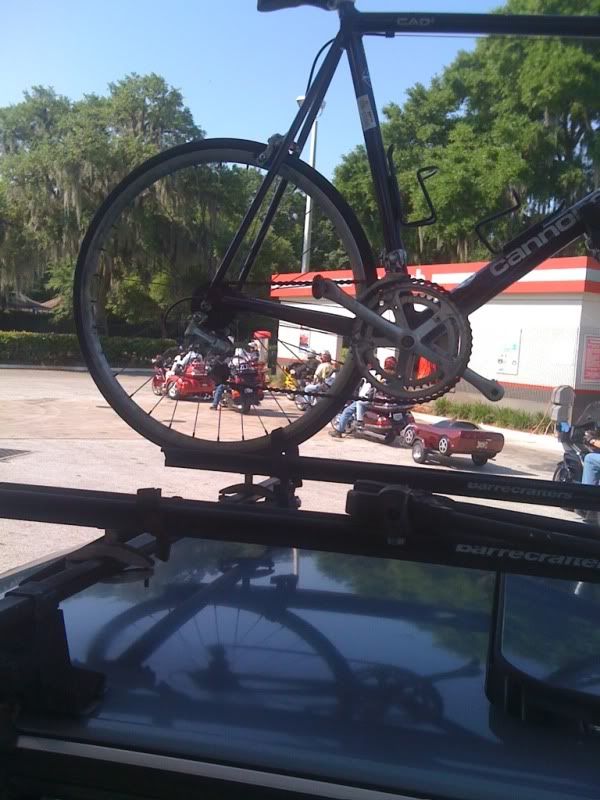 I make it to the park and man is it hot! As I get ready to ride I'm already sweating. Here's a quick pre-ride vid:
Luckily, when riding the bike, you get a nice breeze if you ride fast enough, so I wasn't too concerned with the heat. If I were running it'd be a different story. I'll worry about that when I run. lol
I was feeling pretty good on the ride today. I stayed in the aero position the majority of the ride and kept my cadence high, while still turning a pretty big gear. When on training rides, I try to push harder than I would in a race because I don't have to run afterwards. I can literally get off the bike & chill.
There were a lot of people out today, but I still had the park to myself:
This is 1 thing about Flatwoods that I like: it's like an escape and you can get lost in your own thoughts without having the distractions of cars, and things like that. You can literally put your head down & go!
An hour into the ride I'm still feeling strong. I'm cruising along at 19mph riding all alone, passing all types of cyclists, joggers & rollerbladers, feeling better about my decision to come out here to train. Yes, i need to ride the bridges, but I'm getting a good ride in.
But I must say this:
IF YOU ARE GOING TO JOG OR RUN WEARING HEADPHONES, PLEASE BE AWARE OF YOUR SURROUNDINGS! DON'T GET MAD AT ME IF I SCARE THE CRAP OUT OF YOU WHEN I ZOOM PAST YOU BECAUSE YOU'RE IN THE MIDDLE OF THE PATH! GET YO A** OVER! IT'S NOT MY FAULT YOU DIDN'T HEAR ME SAY "ON YOUR LEFT" THREE TIMES!!!
Sorry, but i just had to say that! lol
2 hours later I'm still going strong and have ridden 37 miles. I'm averaging 18.5 mph, a tad slower than the first hour. I would prefer to do a negative split, but I still haven't mastered that on the bike. I can do it somewhat when running, but not when I'm riding. I have to work on that.
But at this point I'm feeling really good! Two hours into the ride and I hadn't been passed once! I think I jinxed myself, cuz as soon as I was about to proclaim myself "King for a Day" this guy passed me like I was standing still.
Dammit man! lol
But it's all good, cuz people like that motivate me. It just shows me there's room for improvement. And getting passed like that is good for you. It keeps you humble, hungry and motivated. I think I have only tapped into half of my physical potential. Maybe 50% is on the high end? I dunno, but I do know I can get better, simply based on the fact that I got passed by a guy going at least 23mph, and on a bike that's FAST.
I shut it down on the 6th lap & ride the last 7 miles at an easy 15mph for a cool down. I was really happy with the ride and feel pretty good about my conditioning. Total ride was about 2:45.
After the ride I sit up, eat a bit, relax, and enjoy the day: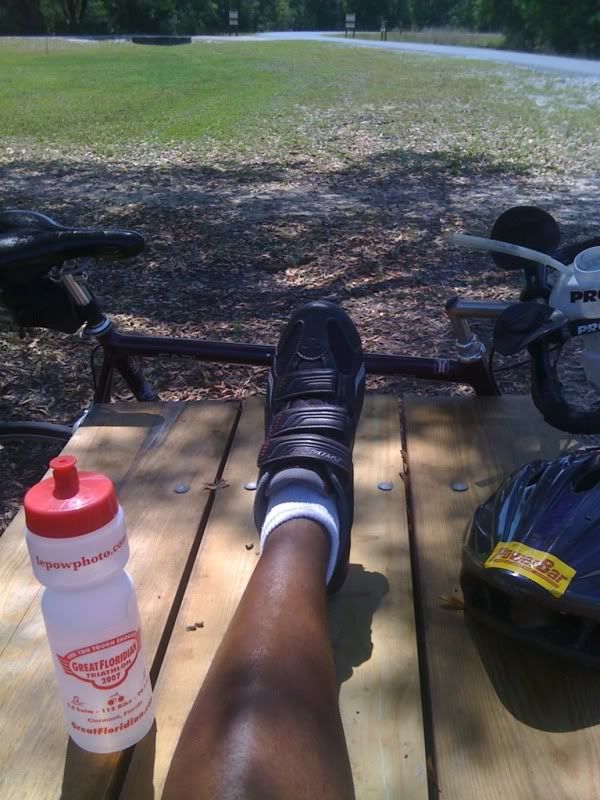 Here's a quick post ride video:
I said before that getting ready for a race can be stressful, but even I have to remind myself to enjoy the journey. All we can do is prepare for whatever we're trying to do, and at the same time, try find a way to enjoy it. Sometimes when we accomplish something, we look back on the preparation more so than the actual finished product. I have to remember that...
After my ride I did my customary 15 minute cooldown walk followed up with 15 minutes of yoga stretches on my Chicago Bulls towel. GO BULLS!
All in all, a GREAT RIDE. My endurance is good, but as with anything, there's room for improvement. I'm not gonna worry about the hills because I'll get on the bridges in due time. Long as I stay productive and train hard in the capacity I have available at the time that's all can do!
Thanks for reading! Till next time, peace!